Magnetic Event Badges Printing in Delhi
---
Design print Solutions is considered a renowned manufacturer and supplier of Conference and Event Name Badge Printing services for all corporate Sector. Obtainable in multiple colours, shapes, sizes and designs, these lightweight name badges are perfect for expressive staff name, designation, hospital name and other related information, efficiently.

Design print Solutions is a trustworthy producer and dealer in the business to proffer Magnetic Name Badges, Pin Name Badges, Conference and Event badges. Available in customized specifications, these badges are suitable for employees name, companys name, logo or any kind of information. Strong and durable, the proffered name badges are competent of holding safely, even through several layers of clothing.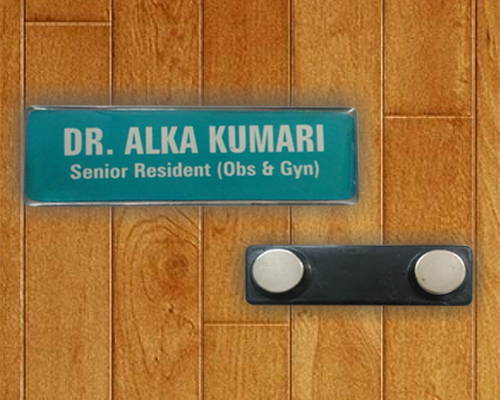 Some of the types are as follows:

» Magnetic and metallic name tags
» Magnetic and acrylic name badges
» Magnetic and wooden name Tags
» Magnetic embossed name Tag

We have no prejudice over the number of order. We accept a minimum order of even ten name badges or as large an order as of hundred name badges.We engage the same amount of concentration and attention to our all projects regardless of their quantity.
Our products come with suitable price tags; it is never unworthy of paying. We care for our customers and their needs. So the motive of our service of designing and printing is to satiate the clients and make them come back to us time and again. We have our online franchise where you can order from your place. Wherever on the globe yor location may be, we assure a satisfactory service for you.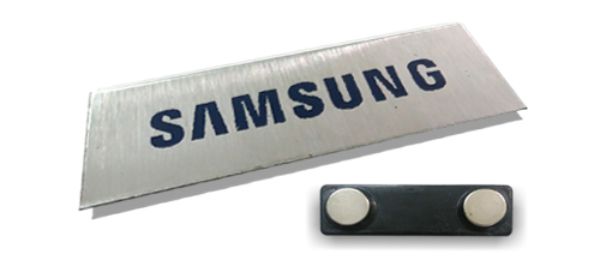 Our team also designs and prints other Tags related things as :

» Buffet signage
» Employee recognition name tags
» Custom lapel clips and pins
» Desk name plates
» Tie Pin badges
» Cufflink badge

We offer our customers with the opportunity to create his or her own designed name Tages. Our customers are free to give us their very own ideasand concepts. We help them to improve and then set out to print your personalized name badges.

In the process of designing and printing the name tags of top quality we adhere to a few steps, as following:

» At first we design the badge, either digitally or manually
» Send it to the customer for required improvisation or correction
» After getting approval of the customer we start with the printing process
» We print the adhesive part of the name tags
» Then we slide it into any one of our lens covers, patented of course
» Finally we deliver the orders for the customers to wear them with pride

The clips or pins or lanyards, or other badge fasteners we offer do not leave holes or mark behind in the shirt or blouse of the badge holder. The fasteners we produce with the badges are firm enough to hold your name badge to the desired place and light enough to wear and remove comfortably.

Our service of designing and printing name badges is an all-encompassing one. This makes our company a one-stop solution in terms of custom and personalized name badges. Do not waste time, if you are planning to get name badges for your employees, and come to us for best results.

Features:
Light in weight
Optimum magnetic and pin strength
Excellent finishing
Recent Projects of Magnetic Event Badges Printing
---