Best Identity Cards Design and Printing Company in Delhi
---
An identity card has become an essential need for the business sectors to promote their name. An identity card gives the employees of your company a distinguishable identity which imparts in them high confidence. We are one of the leading companies for designing and printing identity cards with exact professional care.

Our in-house designing and printing team helps you to have your own laminated or non-laminated ID cards, with custom printed photographs imprinted on it. We design and print thermal as well digital printed identity badges of top quality. Our printing is of a high standard which makes the ID cards made by us long lasting, durable, and not suffer fading and erasure.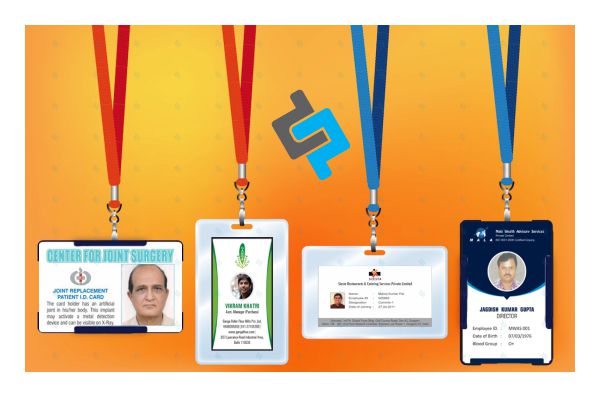 Our Procedures:

In designing and printing ID cards for you we follow a few steps :

» At first you need to send us a sketch of your ideas, with a scanned photo, and related information, such as, name, logo, company, sign, position, code, expiry date, contact number etc. through post or mail.
» In the next step, our professional team improves your draft and adds the needful to complete the design, and send a proof to you via mail service.
» Once you approve of our sample, we need the photos and details of your card holders. Then we implement the design and print the cards.
» Finally, we deliver the cards within the turn over time at your doorstep.

We provide a world class service in designing and printing of ID cards for various sectors, like:

» School ID Cards: We print the school IDs on card papers using fusion technology. They are long lasting, do not rip off, or get worn out.
» College ID Cards: For the printing of college ID cards, we use several prominent colors to distinguish between under graduate students and post graduate students. These are also printed on card papers with the fusing technology which accounts for their durability.
» Employee ID Cards: We design and print high quality employee cards with a professional look. They come with water spill, and dust protection.
» Membership Cards: We offer you a huge variety of membership cards to choose from. Our use of various colors makes your membership card stand apart.
» Loyalty Cards: We provide the best quality of loyalty cards which can serve as a medium of presenting the special benefits offered by your company to your respected and loyal customers.

Our service also covers designing and printing ID cards for hospitals, restaurants, hotels, pharmaceutical, visitor, builders, production house, and so on.

Our best ever service does not come with a shocking price though. We are cost-effective and highly affordable. We are always concerned about the satisfaction of our customers. This quality of us makes us the most favored and popular brand of designing and printing of identity cards. We have a very oriented and integrated team of experts, who are putting efforts regularly to improve your identity cards and serve you in a better way than ever before.

Not only the identity cards, we also offer you the required accessories with it. We provide:

» Identity cards
» Accessories
» Ribbons
» Card clips
» Card casing
» Card package
» Card holder
» Software
» Complete ID system

This makes our organization a one stop solution for identity cards designing and printing. We never make any issue regarding the delivery date. Once dealing with us you can completely relax and get the best result within the negotiated time span. We are the best viable option for your identity cards in India as well as in the international market. Call us and witness the best service ever.

Design Print Solution is bound to provide you the best employee ID card and services at the reasonable prices. Design Print Solution prints employee ID Cards for organization. Professional ID Card Printing Services is very economical. Design Print Solution design employee cards according to your project needs.

We services many industries, including schools, health care facilities, government offices, corporate, service bureaus, organizations, and many more. Contact Design Print Solution for getting ideal employee ID card which advances your business.

Design Print Solution is a good source of ID Card Supplies and Accessories. We offer ID Card Printing and help your project with time bond service.

We Offer:

ID card, ID Card Accessories, Ribbons, Software, Complete ID Systems, Card Holders, etc.
Recent Projects of Identity Cards Design & Printing
---