Name Badges Design & Print
---
Design Print Solutions is ready to serve you Professional Magnetic Name Badges and Emplyee Name Tags manufacturing facility with expert & experience employees. Design Print Solutions helps to boost the impact of staff name badges that describes pride and attention. We provides different range of shapes, sizes, color and materials, gives you the option of choice to design the perfect name badge for your organizations.

We offer Name badges with a choice of pin, clip or magnetic badge fittings superior flexibility which allow you to choose the most suitable attachment method for your Product. Design Print Solutions prints name badges with good high resolution machinery, finished with a hard-wearing, scratch-proof polyurethane coating that makes the badge and your brand terrific make them different
Design Print Solutions is one of the top Service Providers of Metal Round Name Badges with Pin facilities in back side. Our Badges quality and design is the best in the market. We have used the best quality of material in the developing of Metal Round Name Badges in the market. We are provides Round Name Badges to our clients at a suitable range of prices with perfect finish. Our Employee Pinable Badges are widely in demand in the market.
Features:

Magnetic Metal Name Badges or Pin Style Name Badges

Magnetic Acrylic Name Badges or Pin Style Name Badges

Magnetic Wooden Name Badges or Pin Style Name Badges

» Metal Round Name Badges with Pin facilities
» Online Name tag order Accepted
» Metal Round Name Badges with Pin facilities
» No minimum order
» Rapid, steady and reliable dispatches
» Fittings - Pin, Kombi-clip or Magnetic badges
» User-friendly, intuitive online design and ordering
» Full-color printing of logos and text
» Scratch, fade-proof and non-yellowing epoxy coating
» Quantity based pricing

Best Name Badges and Employee Name Tag Maker in Delhi

A creative and smart name badge demands attention and respect. A name badge also adds to the confidence of your employee by giving a personal touch to his or her identity. Designing and printing of the name tages takes creativity, professionalism, and utmost perfection. Our team of highly expert and experience personals helps you with the various name badges of different colors, shapes, sizes, designs and types, which suit your various needs.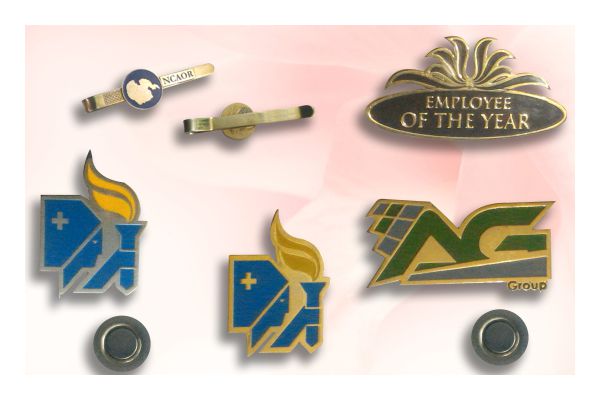 Our designed and printed name badges are the best ones as,

» We use a machinery of high resolution

» Our products have a finish with hard wearing

» Name tags are scratch proof

» The name badges have a polyurethane coating outside

» These name badges are not going to fade, even after a good deal of sun exposure

» We give the name tages a non-yellowing coating, (epoxy)

» Some of these badges come with the capacity of being reused

We provide the customers with a wide range of type in name badges, such as, pin name badge, clip name badge, magnetic name badge, round metallic name badge, rectangular metallic or non-metallic name tages, printed name badge, embossed name badge, illustrated name badge and a lot more.
Recent Projects of Name Badges Design & Print
---