Papers Carry Bags Design-Print
Importance of Papers Carry Bags to Promote Your Products :

Paper carry bags are of utmost importance in our daily need. We carry different things using these easily available paper carry bags, such as books, food items, clothe, electronic gadgets etc. They are also a very important advertisement tool for your company as well. As a paper carry bag can travel to a variety of places it can publicly proclaim the name of your brand. A paper bag can have the name of your company, the logo of the brand and also the related information imprinted on its sides. Since, it is an excellent advertising tool, paper bags are to be designed and printed with care and expertise.

Our team of carry bag printing in Delhi provides you with an unbelievable service in the mentioned field. We produce paper bags of excellent quality and variety to suit the need of every customer. What makes our company a leading institution in designing and printing paper carry bags is the attention, the energy, the subtlety of work we engage in our production.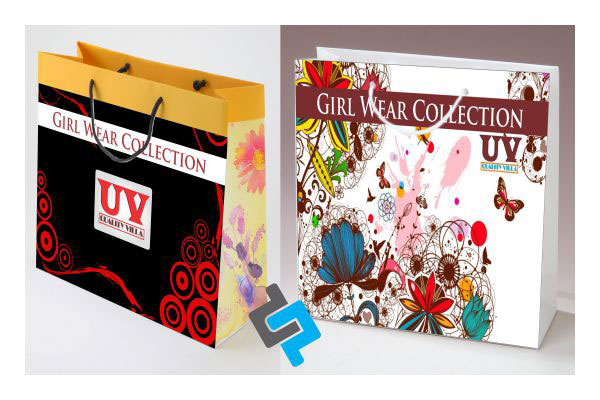 Special Factors We Follow to Make Papers Carry Bags for Your Products :

Different variety of Paper bags: we offer a huge range of types in Paper carry bags, like, laminated bags, glossy bags, plastic carry bag designs, shiny paper bags, Paper bags with custom print, personalized paper carry bags, promotional paper bags, Die cut paper bags, Shopping Paper bags, fancy paper bags, hug bags, gift paper bags, gusseted paper carry bags and many other types. However, this wide variety allows us to cater to all the needs of our customers. We also provides paper carry bag printing online services in Delhi and all over India.

Various Materials used: Our extremely expert team of printed carry bags manufacturers use of various materials to produce paper bags for our customers. We use materials like, paper, handmade papers, degradable plastic material, plastic carry bag printing online, reusable no-woven material of fabric, garment material, tissue papers and so on. This wide range of material imparts difference in looks of our designed and printed paper carry bags. We also use things like art papers, SBS board, and Kraft paper to make unique paper carry bags.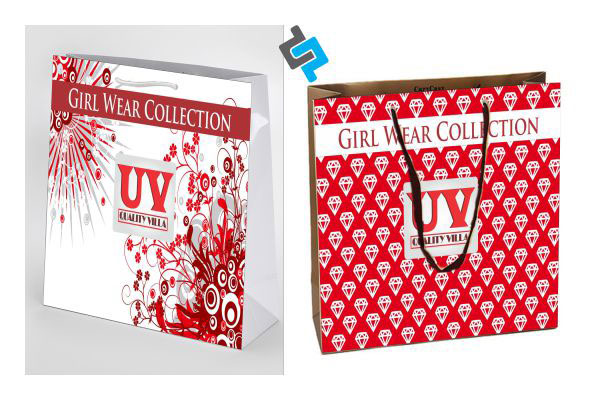 Available variety of Size : we design and print a whole lot of paper bags of different sizes. Our customer4s can order paper bags ranging from 12" x 10" x 3" to 17" x 13.5" x 3". Other intermediate sizes are also available within our service.

Lowest Price: bets things come with a great price. But this theses does not apply to our service of designing and printing of paper carry bags. We offer our customers best deals and offers. We present exclusive items in a price, which is easily affordable and worthy of spending. This makes us the most favored company in this section of carry bag printing and design services.

Quality : the paper bags we produce are durable and not likely to torn up due to overuse only. We offer our clients 'bags made of steel' which proves to be efficient in a long run. The paper carry bag printing we provide is that of an outstanding quality. The ink we use id water proof and will not ruin or smudge in contact with water. So the bags are easily washable at home.

Personalization : we help you to have your very own paper bags, with the personal touch, as logo, or message, or image on it. We are specialist in paper carry bag manufacturing services providers in Delhi. This make sour customer crave for our service more.

Other Details : we also make Eyelets and various types of threads and fancy paper handles to match best with your designer paper bags. According to the client's will we create full color, single color, or white or black papers carry bags.

The most attracting point about our organization is the fact that we are customer-response oriented. We are always at the service of our respected customers. Our wide popularity accounts for our success in Designing and Printing innovative Paper carry bags.

Design Print Solution offers Paper Carry Bag Designing services to our clients throughout the country. Our professionals are highly acknowledged for their excellent printing quality, matt-finish lamination, bright colors and visibility. We offer these services in various specifications. To render these services efficiently, we use various kinds of software like Corel Draw, Photoshop, Dreamweaver, etc. As per the clients' requirements, our designers design bags according with the latest trends & fashion.
Recent Projects of Papers Carry Bags Design-Print
---