Design Print Solution is Best Resturant Menu Designing and printing Service providers in Delhi and All Over India. We are well known producing finest menus around for client's nation & abroad. Our skill and specialty in inks and papers permit us to offer options that are make us different to others. Design Print Solution is available for producing your next menu design and enjoy the difference.

Design Print Solutions designing and printing panel can make traditional or modern designed Restaurant menu card to compliment your restaurant, bar or Hotel and create something with the wow feature! With our great quality menu printing service, we can provide you with a high-quality color & well designed printed menu flyer that stands out from the rest attracting interest of customers. Restaurant Table Menu Card will speak your service & quality volumes. We offer best quality Hotel menu cards in routine sizes. Design Print Solutions can fulfill any quantity of menu cards at reasonable rates. We operate latest printing technology for printing menus at affordable prices

Our Designers able to designs creative menus for restaurants, Bar, hotels and food courts. We print your menus in a range of modern designs, sizes and patterns. We have experts designers to serve with premium quality menus for your business.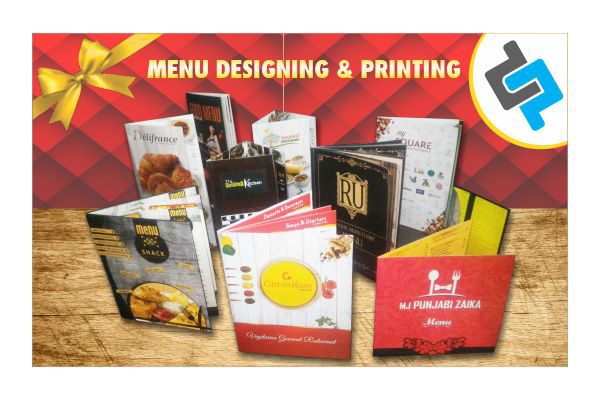 Best Menu Designing and Printing in Delhi In a restaurant, the menu is a primary need of the customers. A well decorated cafe is incomplete without an equally well-designed menu card. The menu is such a thing that can fulfil the customer's appetite. So we try to print our menus in a glossy paper and not a matte one. The paper on which we print the menu is glossy from both sides as it presents the dishes present in front of the customers.

Moreover a menu is often overlooked as a business matter but it is the most valuable thing. In a restaurant, whenever one visits, our first look goes to the menu and we see the delicious foods items there. The more the customers will be attracted to, the more food you will be able to sell. To make the menu decorative and attractive, we use bright coloured fonts and designs, which give us success.

These menus are not only for restaurants but also for various other activities such as:

» For wedding
» Retirement dinners
» Anniversary parties
» Receptions
» Birthday parties
» Holiday meals

In other words, menu design make an occasion special and worth remembering. We are well known for producing the best kind of menus to our clients. Our skill and technique is flourishing each day. We learn from our mistakes and make it more worthy with the growing of each day. We produce panels for modern and traditional methods. We print menus at affordable prices.

We produce the menu cards at a very bright and decorative designing and Printing Services. We are also able to create creative designed menu cards in:

» Bar Menu Card
» Hotels Menu Card
» Restaurants Menu Card
» Food courts Menu Card

We always crave to print the design of modern designs, patterns and sizes. We are able to produce the menu cards at a reasonable price. We try to understand your demand and create the design accordingly. We are also successful in creating complicated designs. These help us to learn more and we become more efficient as workers.

We have different vibrant and colourful tools to produce different kinds of menus. We primarily take orders and then ultimately hand over beautifully designed tools. We also provide numerous choices to the customers about various shapes and designs. There are many companies and restaurants that face problems regarding their menu cards as many people like to have proper menu cards of food that they are going to intake. These kinds of problems are solved by us by offering them with beautifully designed menu cards and also they feel proud to have the most effective and eye catching menu card and this also increases their share of profit.

Apart from menu designing, we also try to provide you with:

» Item placement
» Making the overall marketing and their suggestions
» Photography of food

We also provide multiple finishing to various items. We like to do experiment with different types of menus such as- printing of menu with different styles, we also provide with different copies and also with laminated copies. It is because of us, that printing is made easy and menu cards have become more attractive nowadays. Most of the menu cards that are used are our creation. Our team take the challenge and oath and thus together we produce an effective work that leaves an effective impression. We get good reviews from many customers and thus we are proud to create more logos and to give more effort in creating some of the best.
Recent Projects of Banner Designing & Printing
---